CP  |  By Dean Bennett, The Canadian PressPosted: 08/12/2013 12:28 pm EDT  |  Updated: 08/12/2013 5:31 pm EDT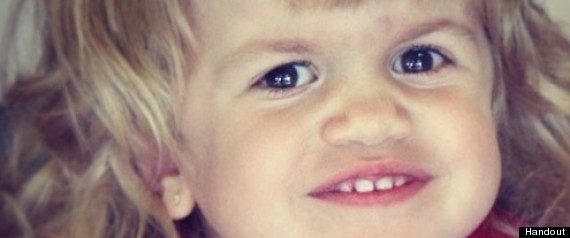 EDMONTON – The family of a three-year-old Alberta girl learned Monday she will receive a potentially life-saving drug for a disease that is causing cellular waste to build up in her joints and around her heart.
The province announced it will fund enzyme replacement therapy for Aleena Sadownyk of St. Albert, just outside Edmonton.
"It was very emotional," Aleena's father, Dane Sadownyk, said in an interview. "The first thing I did was pick up my daughter and give her a huge hug.
"It's been a challenging and a tough road."
A panel of medical experts with Alberta Health Services made the decision to fund the drug Naglazyme for Aleena.
Health Minister Fred Horne did not intervene in the decision, saying it needed to be made for medical reasons alone, but agreed it was a good day for the Sadownyk family.
"Obviously for the family it's a positive outcome," said Horne.
"These decisions are difficult, and we face more and more of them all the time in Canada as we have more drugs becoming available to treat rare … diseases."
The drug costs $300,000 or more per year for children, and because the dosage is tied to weight, can rise to $1 million a year for adults. Those on it are on it for life as the drug does not cure the illness, but simply stops it from worsening.
The Sadownyks had been working with the province since the spring, after Aleena was diagnosed with Maroteaux-Lamy syndrome, also known as MPS VI.
MPS VI patients lack the enzyme in blood that breaks down cellular waste. The waste then accumulates in the bones, tissues, and organs, leading to stiffened joints, heart and airway blockages, and potential death.
Dane said he and his wife, Laura, noticed something was wrong with Aleena — their middle child of three children — when she had trouble raising her arms, touching her shoulder or making a fist.
"We initially just thought she had arthritis because it does run in our family," he said.
As they learned more about the disease they got in touch with Andrew McFadyen, who advocates for families dealing with MPS VI, to get funding for Naglazyme, which acts as an artificial enzyme to break down the cellular waste.
The drug is not approved yet for use in Canada, although it is in other countries such as the United States. It is permitted in special cases in Canada and is paid for in B.C., Saskatchewan, Ontario, and Quebec.
Of the nine children in Canada with the illness, Aleena was the only one not getting the drug prior to Monday, said McFadyen.
Aleena was initially denied funding for the treatment under the Alberta Rare Diseases Funding Program, but was approved Monday under the Short Term Exceptional Drug Therapy program, which provides the treatment for six months.
Horne said it's up to the doctors to decide how and when the drug is administered after that.
"The medical experts will make decisions around how the drug is made available, how the monitoring takes places, and with respect to the ongoing coverage," he said.
The parties had been quietly working on Aleena's case for weeks when McFadyen, with the help of Heather Forsyth, health critic for official opposition Wildrose party, went public 10 days ago with a plea to Horne to intervene.
"I was hitting roadblock after roadblock (along with) misinformation and a lack of knowledge about the process," said McFadyen.
"We couldn't just leave it in the hands of the minister's office to work through quietly. So that's why we went public."
Aleena's plight took off on social media and the opposition parties, even St. Albert government member Stephen Khan, publicly pushed for an expedited decision.
Forsyth said she was overwhelmed Monday.
"The prognosis wasn't good if she didn't get it," said Forsyth. "We've just given this little girl a whole new lease on life, and jeepers why didn't the government do something about this (sooner)."
Horne said the criticism that the government moved slowly is unfair. He said those who had to make the decision were dealing with an unapproved drug and had to make sure it was right for this patient.
"I think the decision was made on a timely basis," he said.