Feb 17, 2013
Million dollars needed to fund clinical trial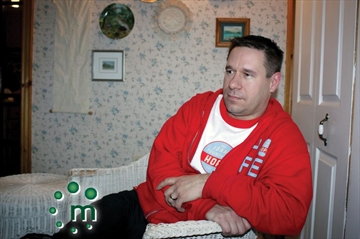 Trent Hills father pushing for a cure for his son
John Campbell / The Independent
TRENT HILLS — Andrew McFadyen and his wife Ellen established the Isaac Foundation to raise money for research to find a cure for their son, who has MPS VI. They believe one has been found, but it will need a clinical trial to prove it's safe and effective. Project One Million is a campaign to raise the necessary money. January 2013
Northumberland NewsTRENT HILLS — Andrew McFadyen is convinced research shows a drug exists that will help his son Isaac get better.
Now he has to convince the drug manufacturer that makes it what he says is true.
Isaac suffers from MPS VI, a rare disease caused by an enzyme deficiency. Research with rats indicates a medication used to treat bladder inflammation could reverse its symptoms, which include stunted growth, stiff joints, heart and eye problems.
A human clinical trial is required to prove the anti-inflammatory oral drug is safe and effective when used to treat MPS VI.
Mr. McFadyen has been urging its manufacturer, Johnson and Johnson, to conduct the trial. He was encouraged when the company said it would make a decision soon, following a conference call last November involving the researcher who discovered the groundbreaking treatment and medical researchers at the pharmaceutical giant.
When he hadn't received word by mid-January, he sent Johnson and Johnson a note "letting them know time is a luxury our kids can't afford," referring to the thousands of children around the world who have MPS in various forms.
Johnson and Johnson said it is looking at how it "can be helpful."
In a statement issued through spokeswoman Suzanne Frost, the company said: "We empathize with the McFadyen family and all families who face rare diseases.
"A senior staff member in our research and development organization has assembled a team to fully evaluate this situation and determine if and how we can be helpful. He is a physician with extensive experience in drug development for a variety of diseases."
The company said it gives "careful consideration to many requests for assistance each year. Unfortunately, we are not able to help in every situation."
Isaac can't close his hands very well anymore or lift his arms above his head, and his bones are starting to put pressure on his lungs and internal organs.
He recently asked his father about "the new pill" and told him, "'I just really want to know what it's like to be like everybody else,'" Mr. McFadyen said. "That was heartbreaking.'"
It was "the push" Mr. McFadyen said he needed to redouble his efforts to raise $1 million for the clinical trial and to get Johnson and Johnson behind Project One Million.
"I can't live every day just with hope, I need to move forward and see if we can't get them onboard by any means that we have," he said. "I'm hopeful they'll come through."